We are celebrating with friends two birthdays on this year: the foundation our company in 1978, DERIVADOS DE LA PINTURA S.A and the 25 years of Pintados y Derivados S.L., our dear PINTER.
This is the meaning of this courious 25-40 anniversary that we celebrated among our friends, customers, suppliers and employees.
An anniversary full of values:

Simplicity, humanity, respect, enthusiasm, sharing, participation, joy.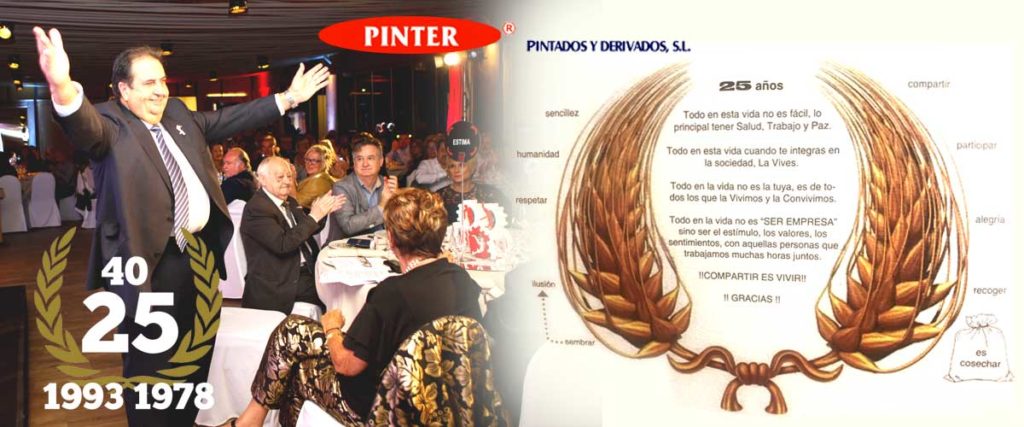 All the people that work at PINTER are proud of our Clients, Suppliers and friends and we are clear that "WITHOUT YOUR SUPPORT IT WOULD NOT BE POSSIBLE"
SHARED ILLUSION
PINTER was born in 1978, in 1993, is reborn as Pintados y Derivados S.L. This year we make 25 years and we have overcome ECONOMIC CRISIS, (always maintaining the current jobs), personal and difficult moments, but we have always had SHARED ILLUSION, with all those that we have made TEAM, but really and always aware that the communication, the coordination, and fight for the good of the company has given us present and future. This motivates us for a job well done, and a thank you to all those who went through PINTER, who went to improve their lives, to those who left and have been with us again, to all the CUSTOMERS WHO TRUST IN OUR WORK FOR THE PREPARATION AND COVERING OF PARTS FOR ALL SECTORS WITH POWDER AND LIQUID PAINTS, suppliers, financial institutions, the police that monitors the industrial estates, official bodies and those who have advised us to implement the Ethical Code, respect for the environment, for CSR, for the entities that have accepted our simple aid for the good of humanity and society. THAT'S WHY WE ARE A CHEERFUL, DYNAMIC, VALUES COMPANY, that today we celebrate 40-25 Anniversary with gratitude and security of the future full of hope.
WE ARE HAPPY AND OUR WISH IS THAT EVERYONE AROUND US, CAN BE HAPPY AS WELL
Carlos Rodríguez, PINTER